Exeem has landed. I have downloaded and installed the
Exeem Public Beta
this morning and done a few tests. It seems ok! At this time of writing there are 21,512 users logged in sharing 5.5 terrabytes of data. This is pretty good going seeing as the client was only released yesterday! If you have used either
Kazaa
,
WinMX
,
eDonkey
or any other program similar to these then the program will be very easy for you to navigate. There are separate tabs for Searching, viewing the Transfer activity, a log window showing the background processes and a tab for showing newly published files. Each file has been manually published into the system by the users which means that there is less rubbish on there like you may find in Kazaa for example. There is plenty of content on there at the moment - but obviously less than you will find on somewhere like Kazaa or any other established P2P network. But it is still very early days in the life of Exeem at the moment. You can "announce" a file into Exeem to share with others by choosing Publish File Pack from the File menu which then allows you to select one file or a whole directory to share. This is a screenshot of the main exeem download window - clearly showing a file being downloaded at a resonable rate.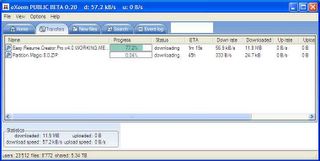 A brilliant feature is that you can right click on any file in the download or search screens to bring up a list of comments that people have left which can be handy for checking that a file is good before downloading.
One thing i have noticed is that after a file has been completed it does not get removed from your download list. You automatically begin to seed the file for other users - even after closing and restarting the Exeem client! This feature ensures that the file stays active on the network for longer than it may do normally when using torrent files. You can right click the completed file in your transfer window and choose to stop seeding at any time though. If this really is a problem for you there is an option in the configuration to automatically stop seeding after you have reached a certain share level - a feature brought from other bittorrent clients, which seems the most sensible option in my opinion. So at a first glance Exeem looks like it might be another application that could take on the P2P networks by force the way that Kazaa did after the demise of Napster. The hype is there and the bittorrent userbase is already there. Also, there is already a
Lite version
of the Exeem program out too which does not contain the Cydoor adware component. When i installed the official beta of Exeem, my Giant anti-spyware software did not detect anything - but i will do a manual scan later just in case. But then again. Last night via a
torrent
announced at
Sharelive
i managed to download over 700mb in just over 2 hours! Currently my bittorrent record! If you get Exeem, let me know your thoughts.